Swagger is Steady when it Counts.
Features that set Swagger™ Apart
Quick Adapt Technology
In the field, there are no controlled environments and being able to quickly adapt gives control and the ability to maintain target and take the shot that counts. The Hunter Series and QD bipods employ Quick Adapt Technology giving the hunter or shooter and extensive range of maneuverability and is designed to adapt to the unique challenges of hunting.
Now, we've added the Quick Adapt HD Technology which over-molds the springs creating a more robust system. Quick Adapt HD Technology is featured in the SEA12.
Quick Adapt LT Technology
Quick Adapt LT Technology allows a shooter to focus on the target without adjust knobs, levers, or legs. Swagger's Stalker Lite™ employs Quick Adapt LT Technology and is the only lightweight, compact shooting sticks that quickly adapt allowing you to maintain target in any terrain.
Modular Leg Technology
Modular Leg Technology was designed to give the shooter ultimate control over the bipod in any shooting situation. This technology allows the shooter to simply twist each leg independently to create the specific range of motion desired. Modular Leg Technology gives the shooter the ability to control how the bipod reacts, allowing quick adaptation to the situation, fast target acquisition, and normal bipod loading no matter the tension on each leg. Modular Leg Technology opens the door of opportunity for Swagger to develop* an endless amount of option to allow shooters to be more confident from the field to the range.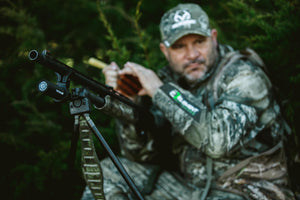 Featured Season
Perfect for Turkey Season
Turkey hunting keeps you moving and the QD allows
you the versatility to be mobile and set up in any terrain.
Shop Now
What Our Partners are saying about Swagger
★★★★★

"The flexibility and sturdy always ready shooting platform just makes sense for anyone looking for accuracy. Having Swagger on your gun or shotgun gives you so many options that makes filling tags easier!"

Michael Waddell

Bone Collector
★★★★★

"Swagger bipods are hands down the most versatile bipods I've ever used! When predator hunting, you're often presented with very challenging shots and Swagger gives you the ability to maneuver into any shooting position and you'll be rock solid when you're ready to take the shot."

Jon Collins

Tooth & Claw TV
★★★★★

"Swagger's line of bipods are second to none! They have a bipod for every hunting or shooting situation and rock solid performance, durability and versatility make them my favorite! If you're shooting long range, turkey hunting, or those moments when you need a quick set up, Swagger has the tools to keep you steady! "

Nick Mundt

Bone Collector
★★★★★

"The very first time I used a Swagger bipod I was sold! Sitting on a hillside in New Zealand, one that I had just climbed hand over hand, I was able to use the Flex Ready Technology to make a solid rest on terrain that wasn't exactly shooter friendly. Whether on the side of a mountain or 20-feet up a tree, Swagger provides a rock-steady rest."

Mark Heck

The Given Right